By Topaz Mukulu and Sienna Baskin, NEO Philanthropy's Anti-Trafficking Program
"We were invisible, and so we thought to ourselves; how do we change this?" Thelma Gomez, Migrant Justice Organizer
On May 8th a diverse group of funders from across the nation convened in the small offices of Migrant Justice (MJ) in Burlington, Vermont. The site visit, organized by NEO Philanthropy in collaboration with MJ and Milk with Dignity Standards Council, showcased the impactful work being done to advance farm workers' rights in the area. The day of learning would take us from this circle of couches, to a local dairy farm to the headquarters of Ben and Jerry's Ice Cream.
Tragically preventable, the death of young migrant farmer José Cruz in December of 2009 shed light on the degree of mistreatment migrant workers in dairy farms in Vermont were subjected to on a daily basis. It was also the birth of a movement. Migrant workers, formerly hidden away on remote dairy farms where they do much of the grueling work that sustains the Vermont economy, came together. They started Migrant Justice, and through community organizing and mobilization, have won campaigns to extend drivers' licenses to all immigrants, and to make Vermont a sanctuary state.
Even with these successes, the reason for their founding – dangerous working conditions on Vermont dairy farms – still plagued their members. These conditions, along with low wages, exhausting work schedules of 60 to 80 hours per week, and overcrowded, unlivable housing with extreme isolation create an environment conducive to trafficking and forced labor. But Migrant Justice discovered a group of tomato-pickers in Florida, who had created an unusual solution that got to the heart of the problems.
"As a community constantly under attack, it is important that we make our goals sustainable and it is important that this change is coming from the workers themselves." – Enrique Balcazar, Migrant Justice spokesperson
As Enrique Balcazar addressed the room, the pride he felt about the progress being made was visible. After two years of campaigning, this small migrant rights organization had succeeded in getting a contractual agreement with Ben and Jerry's Ice Cream to source their dairy solely from farms monitored by the Milk with Dignity Program.
This victory took years of campaigning and collaboration with the Coalition of Immokalee Workers in Florida, to adapt their Worker-Driven Social Responsibility (WSR) model. Beginning with tomato farms in Florida, the WSR model has earned its reputation as effective in eradicating human trafficking and other abuses in supply chains. It does not succeed without five critical elements:
A worker-authored code of conduct
Worker-to-worker education to inform workers of their new rights
A third party monitoring body who ensure compliance through audits and a 24 hour complaint line
Premiums from buyers that pass through to workers (and in Milk with Dignity's case, also to farmers)
Legally binding agreements between workers and buyers at the top of the supply chain
A Signed Agreement
When Ben & Jerry's formally signed the Milk with Dignity agreement in October of 2017, it meant all of their dairy suppliers must adhere to the program's required standards on housing, wages, hours, workplace safety – going above and beyond what is required by law. Enrique describes this breakthrough as historic; and indeed, it is. What is unique about the Milk with Dignity program is that the change came from worker-to-worker mobilization and discussion that identified and found a way to address the root causes of their problems.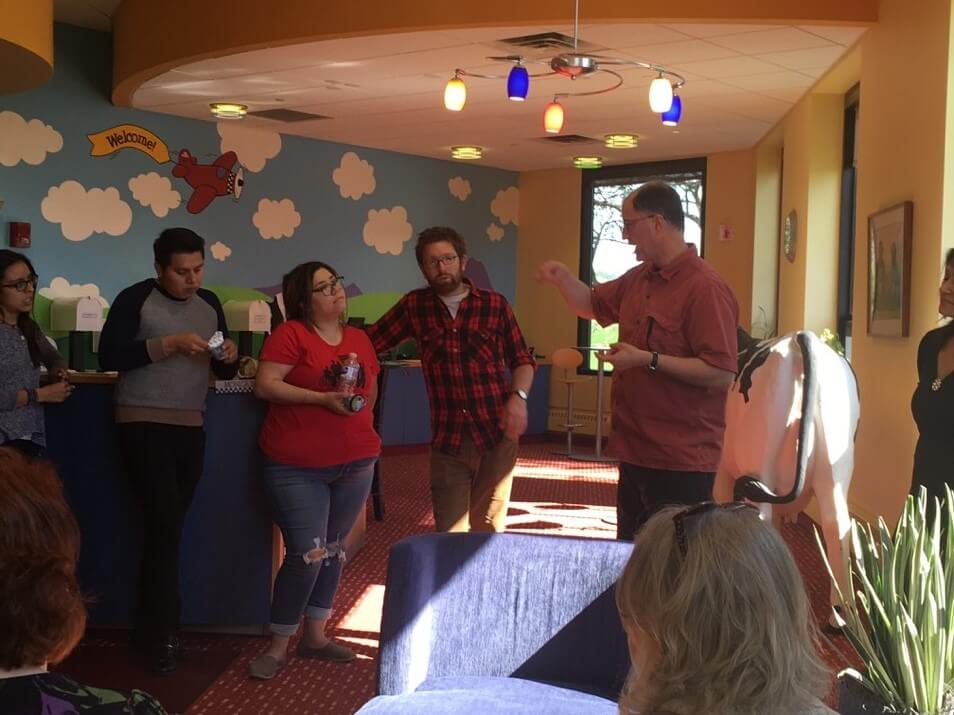 Despite the program's success, leaders remain mindful that the real work is to come. They stressed the tendency of organizations and movements to win legislative or regulatory victories, and then hand power over to flawed institutions. In the worker-driven model, rather than being excluded from enforcement, the workers are at the center of managing the program.
We were able to hear the immense progress made by Milk with Dignity and the Milk with Dignity Standards Council (MDSC). To date, the dairy farms in Ben & Jerry's supply chain have enrolled in the program, and the workers on those farms are covered by the Milk with Dignity Code of Conduct. The Milk with Dignity team has completed worker-to-worker know-your-rights education sessions on nearly all of those farms. The MDSC support line is up and running as a resource available to farm workers reporting violations of their rights or seeking information about the program. Members of MDSC pick up the calls and confidentially deal with a broad range of issues including; housing conditions, low wages and no days off as well as rectifying miscommunication that may occur between farmers and workers. Complaints that would take years to solve under existing laws are resolved in weeks.
The Powerful Message at the Dairy Farm
A scenic hour drive brought us to a family dairy farm; one of the many farms already enrolled in the program and "one of the best farms" according to Migrant Justice organizers. Sitting on 1,000 acres of land with 500 cows, the friendly owner of this establishment welcomed us into his home. The farmer first wanted to convey his appreciation for the Mexican workers he had employed over the years, saying, "I wouldn't be here if it wasn't for these workers." He described the program as an unexpected boon to his business. The extreme volatility of the dairy market makes it hard to have profit margins needed to invest in workers. Yet since this particular farmer was already paying above the minimum wage required by the Milk with Dignity program, he was able to take the premium he received to enroll and use it to better the lives of his workers. He also noted that during the worker orientation training held by the Milk with Dignity Program on his farm, "One of the biggest things that came up in our open discussion was that they had been afraid to ask for help or let me know if something was broken."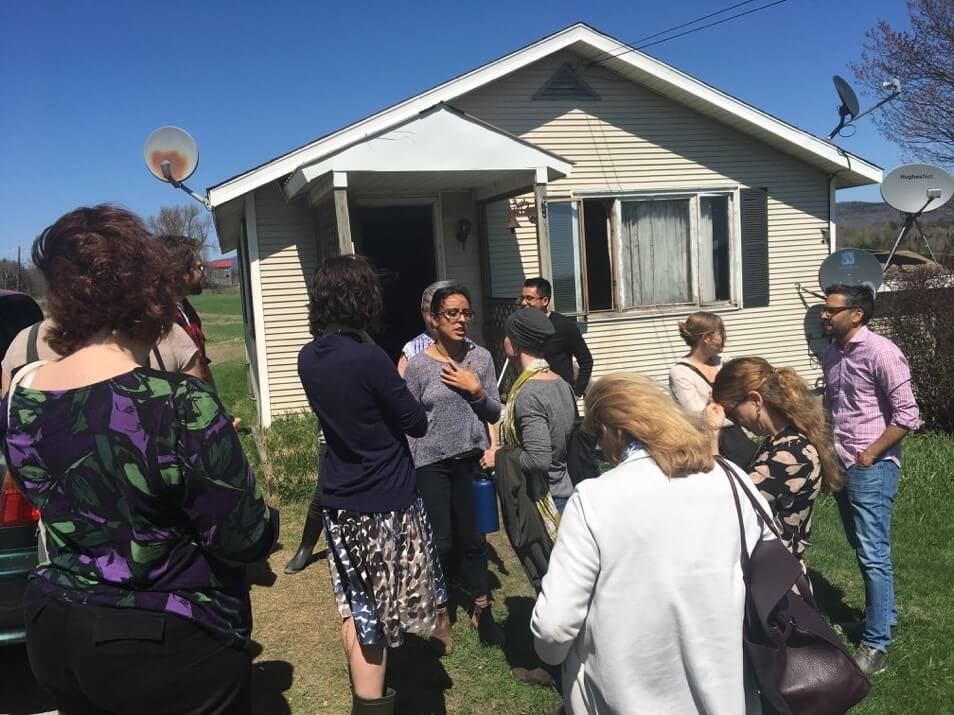 This sentiment was echoed by Migrant Justice member, Olga, who, with her husband and two brothers, comprise the farm's hired workforce. We stopped by her home, just across the road from the farm, for a delicious home cooked meal of tamales. "Before the program, we were nervous that we were asking for too much," Olga shared with our group. As a migrant from Mexico, she talked about how becoming a member of Migrant Justice has given her a sense of belonging. She became tearful in recalling the long campaign and organizing work with Ben & Jerry's. "I'm a part of the farm worker committee [Migrant Justice's member leadership body] and I'm really proud. I'm emotional because it's exciting to see what we've done and to experience first-hand the changes that are being made."
One funder, Humanity United, sent their staff member Megan Tackney to join the tour and learn about WSR. She stated, "Dairy farms are unique because the farmer is not only the employer, but they are also the houser and transportation giver." Will Lambek of Migrant Justice agreed. "This kind of employment relationship creates a lot more vulnerability for the employee. This is why WSR was such a good fit for us – the essence of a worker defined code of conduct is that its industry specific. It was dairy workers themselves talking about the best and worst practices seen these farms, and figuring out how to put into a code our definition of dignity." –  Will
We ended the tour at the Ben and Jerry's headquarters in Burlington. Over ice cream, Rob Michalak and Cheryl Pinto of Ben and Jerry's, shared some reflections on the signing of the agreement. While they had never had a worker protection program before, their social justice orientation made the Milk with Dignity program a good fit. They said it was a very collaborative process and that it was helpful that the company was concerned about more than their bottom line. So far, they've been thrilled with the rapid roll-out. Cheryl shared that one farmer even claimed to have seen an improvement in milk quality; as best practices in milk collection and care for animals were strengthened by better rapport between farmers and workers.
It was exciting to see that, even though WSR model disrupts Corporate Social Responsibility industry norms, a corporation like Ben & Jerry's could get on board. This inspired funders like Christine O'Donnell of US Trust, who said, "One of the family foundations I work with is really concerned about the viability of family farms. Hearing from the farmer about the reason why he wanted to be involved in the program and the positive impact that it has had on his farm, I think is incredibly compelling; to know that there are farmers that see this as a benefit and not as a detriment or something to be feared".
As the visit wrapped up, organizers shared their plans for expansion to other brands and other states. Enrique of Migrant Justice gave thanks to the allies and supportive funders who had stood by Migrant Justice through the campaign.
"Today has been wonderful to see that we can talk together about what Migrant Justice has been doing, and that funders can see that their money is being put to good work in supporting migrant rights. I think it was a really good experience for all of the foundations who are here so they can see that what we've been dreaming of since the organization started is now a reality. We continue dreaming to make it even bigger and that they'll play a key role in making sure that every dairy worker is covered by this program."