Traditionally, Black History Month is a time to reflect upon, acknowledge and honor Black leaders who significantly changed and influenced America's history. Just as it is important to honor those who came before us, it is just as necessary to acknowledge and spotlight those who are social justice leaders today. NEO is committed to lifting up the voices of African American and other advocates of color who are our grantees and partners. NEO believes that the philanthropic sector must invest in the skills and leadership capacity of those who represent the diverse communities we serve. During Black History Month, we will profile a few of the many Black leaders and NEO partners who are making waves in social justice.
This post features Charity Woods, the Co-Founder and Managing Director of Interfaith Voices for Reproductive Justice (IVRJ). IVRJ is a fiscally sponsored project at NEO Philanthropy.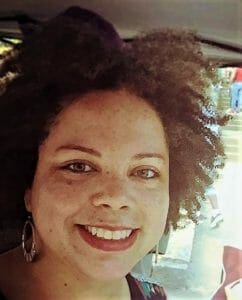 When Charity Woods closes her eyes and envisions a perfect world, she sees a place where people have complete autonomy over their bodies. She sees a place where the definition of reproductive justice is more than just words. Where people can make the choice to have a child, not have a child and can parent their child in a safe and supportive environment. A place where having their rights actualized does not oppress others.
Unfortunately, Charity doesn't have much time these days to sit around and day dream – there is way too much work to do. As the Co-Founder of Interfaith Voices for Reproductive Justice (IVRJ), Charity and her team are taking a different approach to reproductive justice. Born and raised in the South, Charity knows that most conversations – political or otherwise – cannot start without involving and having relationships with the faith community. She is also deeply concerned, as many are, about the rise of new, and resurgence of existing, white Christian supremacy groups in the U.S. Coupled with the proliferation of harmful policies seeded in religion, she believes that a secular approach focused solely on activism is not effective for advancing change and justice.
That's where IVRJ comes in. They are working with both the people in the pews and interfaith religious leaders, scholars and ethicists to construct new, progressive theological and ethical paradigms that affirm people's moral capacity to make decisions that are in their best interests, benefit their families and contribute to the good of the broader community – especially in communities of color. They are working hard to shift the oppressive theologies and narratives that proclaim bodies as "dirty and unworthy" of human dignity. Charity and her team have no interest in telling people how to worship. What they do want is for people to understand that faith and religion should be uplifting and not oppressive. By working with religious scholars and theologians, IVRJ is seeking to present people of faith with new perspectives by offering different theologies that support the discourse around reproduction and sexuality.
"Fighting for reproductive justice wasn't what I dreamed about doing as a little girl. The movement reflected my lived experiences. That's what inspires me most about the work. You don't have to have a specialized degree or spend years researching the issues. You bring your whole self, your resourcefulness and passion and there is a place for you in this movement."
Founded by all women of color, IVRJ is also bringing a new outlook and changing the look of leaders in reproductive justice. To Charity, it means everything to show the individuals IVRJ serves that they have the power within them to fight for their own rights.
IVRJ acknowledges and embraces the intersections of their work with other movements – environmental justice, immigration and racial justice to name a few. Charity is a living representation of some of those intersections and multiple identities. She does not have the option to decide to be Black or a woman when she wakes up. She faces each day as both.
For more information about the work of IVRJ, visit: https://www.iv4rj.org/.