Traditionally, Black History Month is a time to reflect upon, acknowledge and honor Black leaders who significantly changed and influenced America's history. Just as it is important to honor those who came before us, it is just as necessary to acknowledge and spotlight those who are social justice leaders today. NEO is committed to lifting up the voices of African American and other advocates of color who are our grantees and partners. NEO believes that the philanthropic sector must invest in the skills and leadership capacity of those who represent the diverse communities we serve. During Black History Month, we will profile a few of the many Black leaders and NEO partners who are making waves in social justice.
This post features Prentiss Haney, the Executive Director of the Ohio Student Association. The Ohio Student Association is a grantee of NEO Philanthropy's Youth Engagement Fund.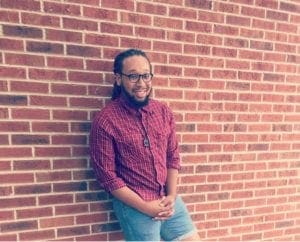 Growing up in Dayton, Ohio, Prentiss Haney lived a relatively comfortable life. His family moved to Ohio for the union manufacturing jobs. When the industry changed and the jobs disappeared, his parents opened up their own businesses. With their guidance and example, Prentiss grew up feeling he had the power to do anything.
It wasn't until college when he first experienced the limits to his sense of empowerment. Prentiss was working on Obama's reelection campaign when his cousin reached out to him looking for assistance landing a job. Prentiss was proud to help and they worked on his resume and his interview skills. Eventually, his cousin got the phone call his was waiting for. Unfortunately, the celebration was short lived because shortly thereafter the same job took back the offer after they found out he'd had some trouble with the law in the past. In that moment, Prentiss felt powerless.
The lesson Prentiss learned in that moment was that he needed to make it his mission to overcome the feeling of powerlessness society saddled him, and many in his community, with.
Now, as the Executive Director of the Ohio Student Association (OSA), Prentiss uplifts youth voices in communities around the state. OSA engages in values-based issue and electoral organizing, nonviolent direct action, advocacy for progressive public policy and leadership development.  In essence, OSA is helping build a political identity for young people in the state. The ultimate goal isn't to win one issue. The goal is to win the issue of governance and create a movement of mass mobilization. OSA and Prentiss are educating young people on the power and influence they possess in the political process.
Prentiss also wants to shift the culture socially. With a population that is only 12 percent Black, Prentiss realized there is much work ahead in Ohio around understanding differences. Through OSA, Prentiss is creating the space where people of all backgrounds – no matter race, religion or sexual orientation – can come together and share their stories. His hope is that through personal stories and accounts, individuals will begin to see how much they are similar, rather than focusing on their differences.
As an African American man leading this organization, Prentiss feels an enormous burden, but even bigger possibilities. No one with his personal experiences has sat where he now sits, so he is building the plane while flying it. He also recognizes he has the power to change the top-down leadership model he's seen throughout his career. He wants to give a voice to his team members and the community he's serving. It's Prentiss' intention to not only keep up the power the young people are building, but to transform it.
Prentiss sees his work and the work of OSA growing much larger that Ohio. "This is much bigger than Ohio," he says. "The people who live in the Midwest need the deep conversations around race and power. That is how we save the heart of our country. And without a heart, you can't live."
For more information about the Ohio Student Association, please visit: http://www.ohiostudentassociation.org/.