This post is written by Sienna Baskin, Director of NEO's Anti-Trafficking Fund
Last week at the Golden Globes, our grantee Ai-Jen Poo of National Domestic Workers Alliance joined Meryl Streep as an invited guest to bring attention to the women in every industry who suffer sexual harassment and assault. In an interview Ai-Jen stated, "I hope people see the momentum and the energy and the fact that we are uniting across all industries saying 'we all deserve workplaces where we are safe, and where our work is valued and we can live and work with dignity.' That's the future."
Today, as we observe Human Trafficking Awareness Day, I believe we are within reach of such a future.  In the past 20 years, we have made strides in raising awareness of human trafficking. In fact, much of our movement's communications efforts have been attempts to clarify the public's understanding of the problem. Our grantees have sought to counter common myths with facts and evidence, deep experience working with trafficking survivors and clarified legal definitions. They have uplifted the voices of exploited and abused workers in many different industries.
However, only sharing knowledge is insufficient to motivate the public. "Awareness" is not enough. People have to know, have to care and have to believe that their action will make a difference. The movement must share compelling stories that both clarify the root causes of trafficking and motivate audiences to take personal and political action that actually uproots those causes.  Holding traffickers accountable is only the beginning. Our desire for cheap goods and services, and the power imbalances that make people vulnerable also need to change. To create these deeper changes, we need a groundswell of support.
In an effort to channel awareness into something greater, 13 grantees of NEO's Anti-Trafficking Fund convened in New York this past October to build connections and learn new communications skills. Before convening in New York, these grantees took part in a strategic communications bootcamp (the SPIN Academy) and were eager to think collectively about a communications strategy for the anti-trafficking field. Through trainings, presentations from respected thinkers, and guided and spontaneous conversations, we unearthed many communications challenges and opportunities for our movement.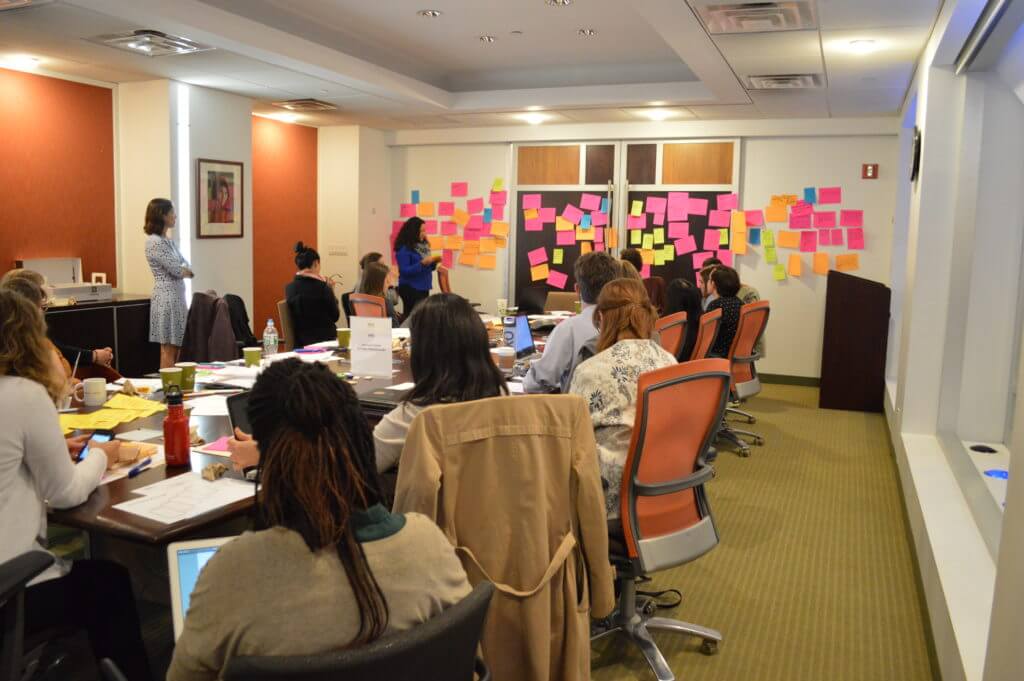 This focus on communications is a growing trend. After the 2016 election, many funders and social justice networks are returning to the drawing board and thinking about how to bring progressive values back to our country.  In this moment, strategic communication is not an "add-on" or a luxury, it is essential to reconnect with the American public across all spectrums.  As a movement, we must align our goals, resolve our differences and integrate a communications framework into all of our work.
This Human Trafficking Awareness Day, we are committing to the goal of working together to move the public from awareness to action. As Ai-Jen said in her interview, "There's room for everyone in this movement." Whether it is by paying your employees fairly and respecting their rights, by investigating the source of your consumer goods, or advocating for the rights of women, immigrants and workers, we can get there together.