On May 14, 2018, NEO's Youth Engagement Fund (YEF) led a site visit to one of its grantees, New Era Colorado, the day before the Funders' Committee for Civic Participation (FCCP) annual convening. In addition to YEF, New Era is also a current and past grantee of NEO's State Infrastructure Fund. YEF donors, several funders attending FCCP and partner organizations attended the site visit held at New Era Colorado's new offices. Austin Belali, Director of the Youth Engagement Fund, highlighted the work of New Era in the context of the demographics of the state: "Colorado's demographics are representative of where the rest of America is headed: 40% of the under-18 population are youth of color."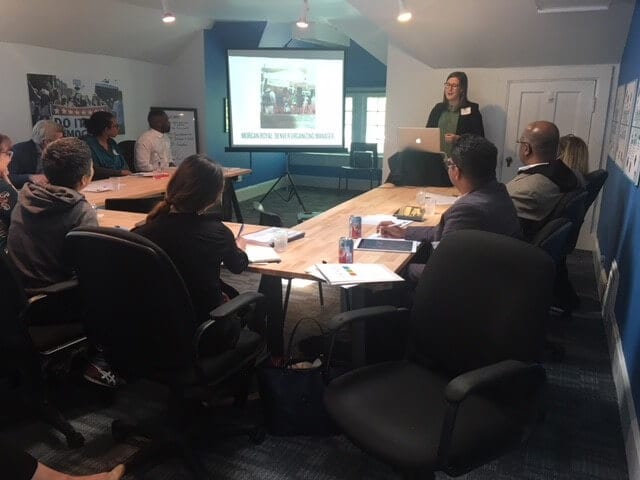 Three speakers presented New Era's work and its success in increasing civic engagement among young people, reducing barriers to voting and building a pipeline of young leaders in the state. Lizzy Stephan, New Era's Executive Director, spoke about the three pillars of their work:
Civic Engagement: through voter registration drives in high schools, colleges and other public spaces frequented by young people, New Era has registered 150,000 young people to vote since 2006. Even more importantly, these new voters turn out to vote at high rates. In the 2012 election, registrants turned out at a rate of 86%.
Advocacy: New Era has been at the forefront of several efforts changing the face of the Colorado electoral system in the past several years, with lobbying around voter preregistration, online voter registration, same-day voting, economic justice, student debt, reproductive rights and climate change.
Leadership Development: New Era's Director of Leadership Development, Morgan Royal, discussed the success of the Leadership Development Institute in building a pipeline of young leaders who will enter political and public service in Colorado and throughout the country. Through sessions for young leaders, New Era exposes its participants to a network of organizations and relationships. Several of its alumni are now working at the State Capitol, congressional offices and even as field organizers at New Era.
New Era is gearing up for the 2018 elections by continuing their voter registration drives and GOTV efforts, publishing voter guides and using technology, specifically texting, to further engage and facilitate the voter registration process for young people.
The vision of the organization, mirroring one of the goals of the Youth Engagement Fund, is to incite a generational change, one where more young people will participate in the civic process, with reduced barriers to voting and a leadership pipeline of progressive young people working to change the face of the state and the country.
To learn more about New Era Colorado visit, https://neweracolorado.org/.