Traditionally, Black History Month is a time to reflect upon, acknowledge and honor Black leaders who significantly changed and influenced America's history. Just as it is important to honor those who came before us, it is just as necessary to acknowledge and spotlight social justice leaders of today. NEO is committed to lifting up the voices of young African American and other advocates of color who are our grantees and partners. NEO believes that the philanthropic sector must invest in the skills and leadership capacity of those who represent the diverse communities we serve. During Black History Month, we will profile a few of the many Black leaders and NEO partners who are making waves in social justice.
This post features Austin Belali, the Director of the Youth Engagement Fund (YEF). YEF is a funder collaborative and part of NEO's Donor Services.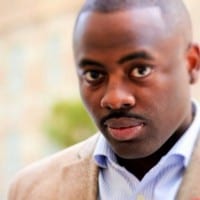 Austin Belali has always believed that young people and emerging leaders should be in the driver's seat of social change, but it wasn't until he was attending school in India that he saw his vision actualized. India – the world's largest democracy – has found a way to institutionalize the belief that a strong democracy is one that has embedded civic participation into the culture. Austin observed the intentional and institutional efforts to onboard youth into civic participation and admired the emphasis placed on leadership training and development opportunities for emerging leaders. In his position as Director of the Youth Engagement Fund (YEF), Austin is working every day to make that a reality in the U.S.
As the largest network of donors dedicated to increasing civic participation among young people in the U.S., YEF and Austin himself live and breathe the desire to foster a culture of civic participation. Austin explains, "Many of the factors that define civic participation are not national or local – they are global. They have as much to do with voting laws as they do with changes in the global economy." Pooled funds like YEF are bringing together those funders who work on economic issues and those whose focus is civic participation. Austin believes having both perspectives at the table allows for shared learning and big-picture thinking, ultimately getting them closer to their goal.
What is the ultimate goal? To Austin, it is creating a new social contract in the U.S. One that embraces youth, people of color and the working class. A contract that ensures the economic rights and basic freedom and dignity for the children of farm workers and nurses just as much as the children of investment bankers and politicians. Austin's work is about making sure ordinary people have a voice and a say in the creation of that social contract, because when people feel like they don't have a choice in what their democracy looks like, they stop believing it matters.
As a results-oriented leader, it's clear to Austin that it is time to do things differently if he wants to see his vision actualized. To him, that means putting young people and technology at the forefront. YEF is funding fellowships and internships that allow youth to take on roles in civic engagement across the country. In the last three years, they have made research innovations and experimentations including being the leader in research on youth civic participation in the U.S. and commissioning the first-ever index that allows funders to view the locations where youth civic participation makes the biggest impact.
Engaging youth in civic engagement brings underrepresented voters to the table, but Austin asserts representation is just the start. "If we simply get people of color at the top of organizations but don't reflect a new set of values and allow for a different way of engaging in business, then we have only won the right to be free, we haven't actually won our freedom."
For more information about The Youth Engagement Fund, please visit: http://youthengagementfund.org/. YEF invites donors to participate in their March online funder briefing. For more information about how you can attend, please contact chisingletary@youthengagementfund.org.